New Jersey Chiropractic Association gives Lifetime Achievement Award to Medford Doctor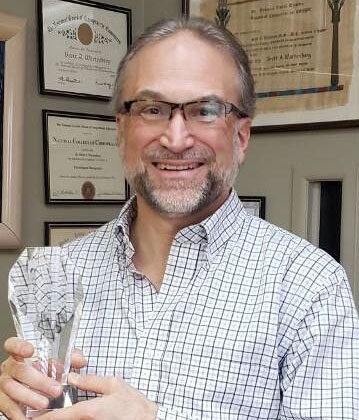 The Association of New Jersey Chiropractors (ANJC) has a tradition of honoring members of the profession who have provided outstanding service to the profession and patients for many decades. This year's recipient of the Lifetime Achievement Award is Dr. Brett Wartenberg of Medford.
After graduating from Lenape High School in Medford, he later became a 1987 graduate of Life Chiropractic College in Marietta, Ga. Wartenberg practiced in Illinois for 1 1/2 years before returning to New Jersey in 1989, and in 1990 he opened Main Street Chiropractic in his hometown of Medford.
An active member of his community Wartenberg has been involved in fundraising for the March of Dimes, Big Brothers/Big sisters of Burlington County, the American Diabetes Association and the American Cancer Society, to name a few. He has educated the community, presenting through the South Jersey Wellness Alliance. He also served on the Medford Economic Commission for 10 years, serving as chair for two. As an avid cyclist he has held multiple roles with Team Evesham Cycling Club.
Wartenberg has been an instructor of the Gonstead technique, of which he is a diplomate, as part of the continuing education faculty of several chiropractic colleges. He is a noted international presenter, teaching in such locations as Sweden, England, Canada and throughout the US. As a member of the Southern New Jersey Chiropractic Society he was actively involved in the unification process of the New Jersey chiropractic profession and the creation of the ANJC. He spent ten years as a charter member of the ANJC Board of Directors, served as vice president from 2007-2011, and was previously honored as Chiropractor of the Year in 2010. Since 2014, he has served the citizens of the state as a member of the New Jersey Board of Chiropractic Examiners, which is the licensing and regulatory board, which ensures that chiropractic is performed in compliance with New Jersey state law.
The association presented Wartenberg with the award recognizing his "outstanding service and accomplishments spanning a career dedicated to excellence" during its annual fall summit, held virtually due to the pandemic, on Nov. 14. 2020.
---
Lifetime Achievement Award | Main Street Chiropractic